The genius of Snoop Dogg's hairstyles, in 8 examples
Words Gino Delmas
Photos DR
The rap king of the hair game.
« Mad dogging ni**as cause I don't care, red jumpsuit with two braids in my hair. », Murder Was The Case
The list of rap legends capable of delivering vicious punchlines while talking about their hairstyle is so short that it basically consists of one person: Calvin Broadus Jr, a.k.a. Snoop Dogg. Since his beginnings as a teenager in the footsteps of NWA and Dre at the end of the 80s with a Long Beach cap sitting on his jheri curls, to his current locks, the rapper has tried pretty much all options offered by afro-textured hair. Afro? Check. Perm? Check. Cornrows? Triple check. Without ever making a fuss of it, in an industry where hair care is supremely important but strangely rarely mentioned in lyrics, Snoop has seamlessly bounced from one hairstyle to another with the support of Tasha Hayward, his hairdresser, and a Long Beach native like him.
These days, Snoop is less focused on furthering what is already an illustrious career, and can be seen with the same dreadlocks he started wearing in 2011. He was a guest at the 2018 Beautycon last July in Los Angeles, where he shared some of his hair styling tips, such as tying a silk scarf around your head before going to bed to protect your hair and ensure your edges stay laid. He also stated that hair is part of an artist's uniform, it's his favourite accessory, and as such, it must always be on point. Turns out you can sell 35 million records worldwide, be a legend of gangsta rap, and be a hair connoisseur. If you don't believe us, take a look at these eight different hairstyles the Doggfather has worn like a boss.
Jheri curls
The OG. The one barely visible under Snoop's cap when he was dropping his first sixteens in the studio as the teenage member of 213 - Long Beach's postal code and a group he'd formed with his cousin Nate Dogg and his friend Warren G. It's the same style he chose for the cover of his 2017 album 'Neva Left'. Jheri curls were all the rage back then, NWA's Eazy-E wore them proudly under the black cap that never left his head. In 1996, Snoop even included a fond reference to this hairdo in 'Santa Claus Goes Straight to the Ghetto': "It's Christmas time and my rhyme's steady bumpin'. Everybody happy, hair still nappy, Gonna steal a gift for my old grandpappy."
Cornrows
The famous cornrows. Whether in 1992, for The Chronic's promo tour with Dr. Dre, in 1993, when this same album was bringing home all the awards, or regularly throughout the years for the following two decades, Snoop was often seen with flawless cornrows, even when covered by a Du-rag or a cap. One of the first international superstars to wear cornrows, he was quickly joined by Philly's favourite bad boy, Allen Iverson, who took them to new creative heights on the NBA's courts. Two legends who gave cornrows the fame they deserved.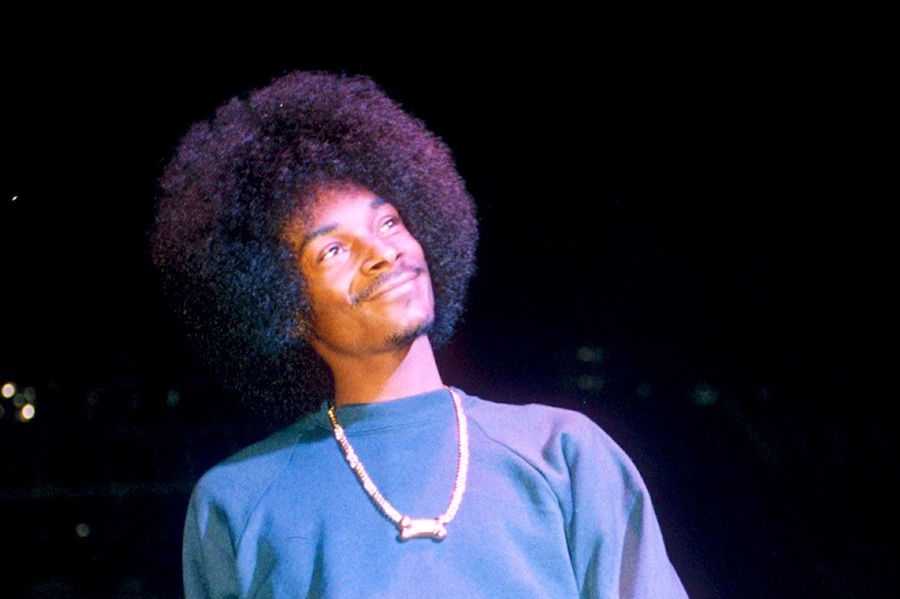 Afro
In 1994, Snoop Dogg's answer to Lady Of Rage when she rapped "I rock rough and tough with my afro puffs' was to 'rock on with [her] bad self'. This exchange took place on 'Afro Puffs', featured on the soundtrack to Above The Rim. It must have inspired Snoop, because the same year he rolled up to the American Music Awards with an afro for the ages. He performed his verse off 'Gin & Juice' and his friend Dre left with the Awards for Favourite Rap/Hip-Hop Artist, and Favourite Rap/Hip-Hop New Artist. That year, the pair reigned supreme over US rap. At Beautycon, the Californian rapper admitted that the afro was by far his favourite hairstyle. Unfortunately, because an afro requires so much time and preparation, it's only (too) rarely seen.
Shirley Temple curls
"My hair game is legendary and was always laid. […] There were always moments in the hair game that kept me wanting to be different. Even when I came with the Shirley Temple curl in the 'Next Episode' video—no one had rocked Shirley Temples in the rap game. For me to rock it in the pimping style that I did, I brought Shirley back to life again." Indeed, from the early years of his career, the G-Funk pioneer never hesitated to take his hairstyle away from the tracks beaten by his peers, who remained caught between high tops, buzzcuts, and cornrows. Snoop's hair is let loose in generous, bouncy curls, with a distinctly 70s vibe, as the rapper leaves a permanent and unique mark on the rap game.
Pigtails
The subject of this article's opening quote, worn by Snoop in the video for 'Murder Was The Case', one of the songs featured on the 100% West Coast soundtrack of the homonymous short film shot by Dr. Dre in 1994. Starting from the top or the sides of his head, braided or loose, 2 or 4 at a time, Snoop's pigtails followed him through the heart of his career, and across multi-platinum records such as Doggystyle, Tha Doggfather or Da Game Is To Be Sold, Not To Be Told. In the 90s and 2000s, braided pigtails came to represent the stereotypical Californian gangsta hairstyle, often peeking out of a cap, Du-rag, or bandana.
Perm
In the early 2000s, Snoop Dogg slowly morphed from a gangster rapper to a pimp rapper. On top of portraying Huggy Bear in the Starsky and Hutch film, his infatuation with all things pimp led him to include a wide array of 70s-inspired hairstyles to his arsenal. Particularly fond of the perm, Snoop paired this imposing hairstyle with suede, coloured capes, canes, and wide-brimmed hats. Church!
Ponytail
Whether simple, braided, textured, or curly, you know that a Snoop Dogg ponytail is always going to be combed and tied with the utmost precision. When discussing his unique style with the Fader magazine, he recalled his uncle June Bug's advice to "Fuck it up" when it came to personal style. Memorable advice for a man whose legend was built on the originality of his flow and his attention to detail.
Dreadlocks
In 2011, Snoop Dogg started to mellow, and his hair followed suit. Taking a keen interest in Jamaican culture, he temporarily switched spirit animals, referring to himself as Snoop Lion. While the name change didn't last, the dreadlocks he started sporting at the time have remained, albeit in different lengths and forms. With a career spanning almost 30 years, the rapper is still around, and very much unparalleled in the rap game when it comes to hairstyle audacity. The true mark of a legend.
Related articles